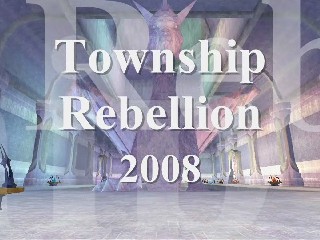 Ormus Spielberg has done it again!! Since our previously released movies have been so popular, Ormus has made another one to show off the TR crew in action... for those that haven't gotten a chance to see the content that this raiding year has offered up, this will show a glimpse of what we've been up to, and a chance to see some of the end game mobs.

Note: Please right click and choose Save Target as... this will help us with our current bandwidth crunch!

Also -- Wizards of Norrath -- if you'd like to get involved, we have spots aplenty for the best and brightest finger wagglers out there... click here!

Township Rebellion Movie!

Special thanks to Ormus for all of his hard work (again!) towards the final production!